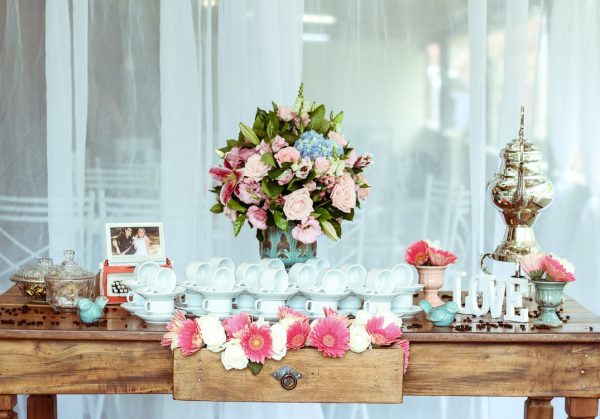 Whether planning a glam wedding reception or an outdoor ceremony, you can wow your guests with simple wedding decoration ideas. The key to success is selecting decors that best suit your theme. Even if you don't have a DIY wedding and have already hired a wedding planner, you can still go for these decor ideas to add personal touches here and there.
1. Hang string lights.
Create a romantic ambience with string lights hung from the ceilings of the event space. Are you having a garden wedding? Try to weave lights through branches and trees to achieve a whimsical vibe. You can rent hanging lights from a local vendor. Or invest in affordable sets from the nearest hardware store and make this decor your DIY project for the wedding. Lighting is a key detail that can transform a space; you won't regret spending time & money on this idea.
2. Select charming centrepieces.
When it comes to wedding decoration ideas, less sometimes can be more. Centrepieces for tables are a crucial decor component, but they can be overpowering, especially if they're not proportional to the space. If possible, skip the towering floral arrangements. Even if they're pretty, they can distract guests who might want to mingle with other people at their table.
Instead, go for minimalist centrepieces. Succulents are great options, especially if you want some greenery at the reception. You can create a rustic tablescape with several clusters of succulents. You can also talk to your florist to ensure a pleasing succulent arrangement for each table.
3. Drape the ceilings.
Never underestimate the visual power of fabric. With draped ceilings, you can add a touch of elegance to any venue. You can keep it formal by sticking to white drapes. Or you can experiment with different colours for a hip and modern vibe. Draped ceilings are a definite attention-grabber, so it's best to keep the rest of your wedding decors minimal for a balanced look.
4. Turn menus or cocktail recipes into decors.
Menus and cocktail recipes can be turned into wedding decors. If your wedding plans include offering set menus or custom drinks, use a piece of art to display the beverage and food choices. Consider working with a local artist or a talented friend/family member to illustrate the dish or cocktail (along with the ingredients), so guests have a better idea of what they're having or sipping.
5. Put up fun directional posts.
Other than putting up wedding banners on the entrance, install fun directional posts. Tall signposts with multiple arrows can guide guests around your venue, especially if it's a large outdoor space. You can hand-paint the signposts or use your favourite font to add a personal touch. Just make sure that the directional posts blend well with the rest of the decors. 
6. Create Print Art displays.
Printed art is a trending way of decorating for weddings and other events. It's an affordable way to add colour and life to your event and it's easy to install. There are many different types of printed art that you can use for your event. You can print your own artwork, or you can purchase prints from various artists on the internet. You can also find many different types of frames that will work with your prints. Frames come in all shapes, sizes, colours and materials so there is sure to be one that will fit your needs.
7. Turn barrels into tables.
Planning to serve hors d'oeuvres and cocktail drinks to the waiting guests at your outdoor wedding? Collect some old wine barrels and turn them into rustic cocktail tables. They have perfect height to be repurposed as tables and a rustic look to add character to your decors.
Final Thoughts
Your wedding is a once-in-a-lifetime event. Since it's a special day, you would probably go for the grandest wedding decoration ideas. But sometimes, simpler options are better. They're easier and more affordable to pull off, making your big day less stressful. And when executed properly, the simplest wedding decors will look elegant, personalised and beautiful.