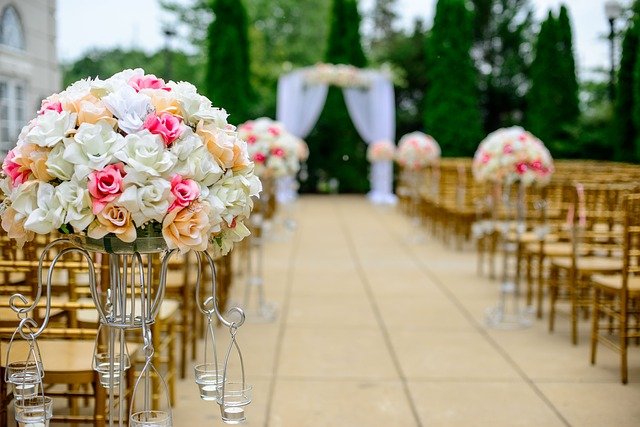 Congratulations on your engagement! If you're like most couples, you're probably starting to think about all of the planning that goes into a wedding. While there are many things to consider, these three tasks are crucial to ensuring your wedding goes smoothly.
Hire A Caterer
With all of the other planning that goes into a wedding, it's easy to forget about one of the most important aspects: food! Unless you're a culinary expert, it's best to hire a caterer to take care of all the food-related tasks for your big day. Here are a few things to keep in mind when choosing a caterer:
Meet with multiple caterers and ask them for proposals. This will give you a good sense of what each caterer can offer and how much they charge.

Ask for references from past clients. This is a great way to get an idea of the quality of the caterer's work.

Sample food from different caterers. This will help you determine which menu items you and your guests would enjoy on your wedding day.
Book A band Or DJ
When it comes to music for your wedding, there are a few things to keep in mind. First, decide if you want a band or a DJ. Bands can be more expensive but can provide a more personal experience. DJs can be less expensive and can offer a wider range of music. Second, decide what kind of music you want. Do you want the wedding party to dance? If so, you'll need to choose slower songs for the beginning of the night and faster songs for later on. Third, make sure you book your band or DJ well in advance – many popular bands and DJs are booked up months or even years in advance!
Order Invitations And Thank You Cards
When it comes to wedding planning, there are a few tasks that are often forgotten about until the last minute. One of these is ordering invitations and thank you cards. It's important to place your orders as soon as possible, especially if you're working with a custom design. This will give your stationer enough time to create and mail them out before the wedding.
If you're looking for something more affordable, consider choosing a pre-made design. There are a number of online retailers that offer a wide variety of options, and most ship within a few days. Be sure to order extra cards in case some guests RSVP late or lose their invitation. Thank you cards should be sent out as soon as possible after the wedding.
Finalize All Details With Vendors
Now that you have all of your ducks in a row, it's time to finalize all of the details with your vendors. This means confirming the date, time, and location of the wedding as well as the specific services that each vendor will be providing. It's also important to iron out any payment details at this point.
Be sure to ask your vendors for references and to see examples of their work. Ask as many questions as you need to in order to feel confident that they will deliver what you want on your big day. If you have any concerns, now is the time to address them. Once everything is confirmed, be sure to put everything in writing and get signed contracts from your vendors. This will help ensure that there are no surprises on your wedding day.
Don't Forget About Smaller Details
One of the biggest mistakes couples make when planning their weddings is forgetting about the small details. These tiny details may seem insignificant, but they can really affect the overall outcome of your wedding day. Here are a few things to keep in mind as you plan your wedding:
Choose your wedding colors and theme early on so you can start purchasing

wedding banners

, decorations, and other items.

Hire a photographer and videographer to capture all the memories of your big day!

Make sure you have enough seating for your guests. If you're having a seated dinner, you'll need one seat for every two guests. If you're having a buffet or hors d'oeuvres reception, allow for about 24 inches of space per person.

Plan your timeline carefully. Make sure you allow enough time for each activity and be sure to leave plenty of time for set-up and clean-up.

Choose your vendors carefully. It's important to select vendors who are professional and reliable.
Prepare For Packing And Travel On The Big Day!
The big day is finally here! You have planned, organized, and prepared for months, and now it's time to enjoy your wedding day. However, don't forget these crucial final tasks that need to be completed before you leave for your honeymoon.
First and foremost, make sure that you have packed everything you need. Check the weather forecast and pack accordingly. Be sure to bring any medications you may need, as well as insect repellent if necessary. If you are traveling by car, make a packing list and check it off as you go. Include items like sunscreen, hats, maps, snacks, and drinks. If you are flying to your honeymoon destination, be sure to check the airline's restrictions on luggage weight and size. Pack light – you will likely want to buy some local clothes once you arrive at your destination.

If you don't want to go through all this, we are here to help you. Feel free to reach out to us for any wedding planning services or inquiries.