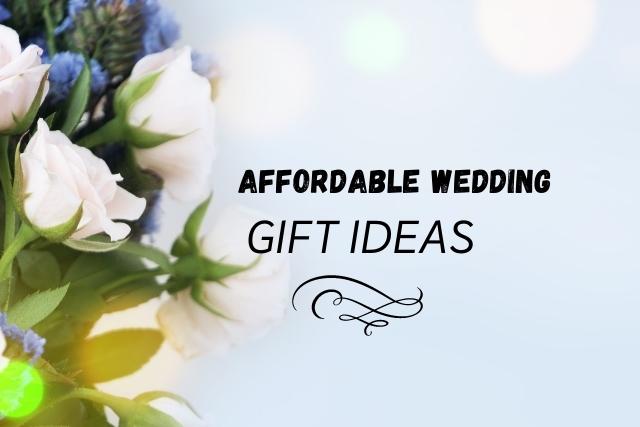 When it comes to finding the perfect wedding gift, affordability is key. But that doesn't mean you have to sacrifice quality or style. From unique home decor items to heartfelt keepsakes, these affordable wedding gifts are sure to please.
Consider A Charitable Donation
When it comes to wedding gifts, most couples prefer something that is affordable and practical. If you're looking for some creative gift ideas, consider a charitable donation in the couple's name. This is a thoughtful way to give back to the community and support a good cause. There are many worthy charities to choose from, so do your research and find one that aligns with the couple's values.
A Gift Certificate To A Favorite Restaurant Or Store
A gift certificate to a favourite restaurant or store is always a welcomed gift. It's practical and allows the recipient to pick out something they really want. Plus, it doesn't require any extra wrapping! This gives them something to look forward to and helps them commemorate the special day.
Art Print Or Picture Frame
Art prints can be a great way to add personality to a room, and they come in a variety of styles and price points. You can find prints that fit any budget, and they make a great addition to any home. Picture frames are also a great option for wedding gifts. They can be used to showcase a favourite photo or memory from the wedding day. Plus, they're versatile enough to fit any style or décor.
Good Sleep
Good sleep is the best gift you can give to your loved ones. One way to help someone sleep better is to get them a new mattress. There are many different types to choose from such as memory foam, latex, and innerspring mattresses. Memory foam mattresses are popular because they conform to the shape of your body and relieve pressure points that can cause pain while sleeping. They also have an open cell structure which allows airflow throughout the mattress to keep it cool which helps prevent heat buildup that can disrupt sleep patterns.
Pre-Made Baskets Or Gift Sets
They're easy to find and usually not too expensive, which makes them a great option for couples who are on a budget. Plus, there's usually something for everyone in these baskets, so they're perfect for families and friends of the bride and groom.
Some of the best pre-made baskets or gift sets come from online retailers like Amazon or Etsy. These companies have a wide variety of options to choose from, so you're sure to find something that fits the couple's personality and style. And since they're all handmade, you know the gifts will be high quality and unique. If you're looking for a more personalized option, consider creating your own basket or gift set.
Dresses
Dresses can be a great affordable wedding gift idea for the bride-to-be. You can still find plenty of beautiful dresses that won't break the bank. Look for sales and discounts at your favorite clothing stores or online retailers. You can also check out secondhand shops or consignment stores for gently used dresses at a fraction of the cost.
When choosing a dress as a gift, consider the bride's style and preferences. If you're not sure, stick with classic styles that are always in fashion, such as a little black dress or a simple A-line gown. You can also opt for dresses in neutral colors like white, black, or navy, as they are versatile and easy to accessorize. If you want to add a personal touch to your gift, consider having the dress custom-made or embroidered with the bride's name or wedding date. This will make the gift even more special and memorable.
A Custom-Made Blanket Or Quilt
Weddings are a time to celebrate, and what better way to commemorate the big day than with a custom-made blanket or quilt? These unique gifts can be tailored to match the couple's personality and style, and they're sure to be appreciated for years to come.
There are plenty of ways to create a one-of-a-kind blanket or quilt. If you're handy with a sewing machine, you can sew together pieces of fabric in different colours and patterns. Or, if you're looking for something a little simpler, you can buy a pre-made quilt and personalize it with embroidered names or initials. No matter how you choose to do it, a custom-made blanket or quilt is the perfect way to show your friends or family members that you care.
A Coffee Table
There is nothing quite like the feeling of receiving a well-made piece of furniture. It's sturdy, reliable, and perfect for any room in your home. Plus, a well-made coffee table can last for years and years with proper care. You can find some great deals at any furniture store, and the bride and groom will definitely appreciate the extra seating or storage space. Just be sure to take into account the size and style of the furniture before you purchase it. A large, ornate piece might not be the best option for a small apartment, for example.
Personalized cutting board.
A cutting board is a kitchen essential, but it can also be a great wedding gift. There are a few different ways to personalize a cutting board. You can have the couple's names engraved on the board, or you could choose a design that reflects their interests or personality. If you're not sure what to choose, there are plenty of online shops that offer custom cutting boards. A personalized cutting board is a practical and sentimental gift that the couple will use every day in their kitchen. It's also something they'll always remember your wedding by.