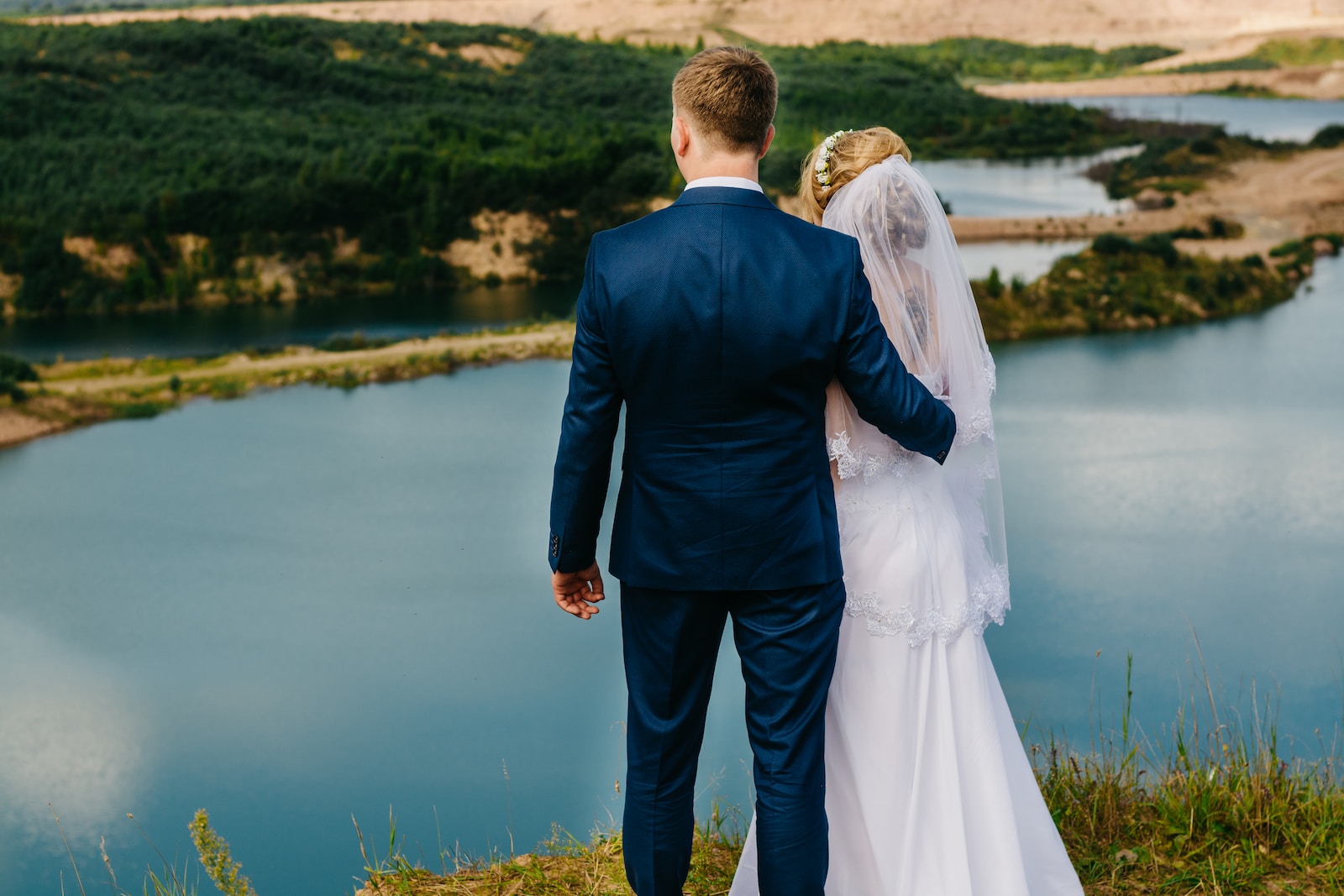 Are you ready to say "I do" in style? Well, hold onto your bouquet because we've got the ultimate wedding wardrobe guide just for you! Whether you're the blushing bride, dashing groom, or a guest looking to steal the show, we've got all the tips and tricks you need to find the perfect clothes for your special day. From the aisle to the dance floor, get ready to turn heads and make memories in the most stylish way possible. Let's dive in, shall we?
Define Your Wedding Style:
Now, let's take a moment to define your wedding style and figure out the perfect clothes for your big day. Your wedding theme sets the tone for your entire wardrobe, so it's crucial to choose wisely. Are you going for a classic and elegant affair, or perhaps something more whimsical and bohemian? Whatever your style, make sure to stay on top of the latest fashion trends. After all, you don't want to be the bride who accidentally brings back shoulder pads or neon leggings!
When selecting your wedding clothes, it's important to consider your body type. If you have an hourglass figure, consider a fitted mermaid gown that accentuates your curves. For those with a more athletic build, a sleek and modern sheath dress can do wonders. Don't forget about the color palette! If your venue is a picturesque garden, opt for soft pastels or vibrant floral prints. In contrast, a glamorous city rooftop calls for bold and sophisticated jewel tones.
Lastly, think about the suitability of your venue. A beach wedding requires lightweight fabrics and breathable designs, while a grand ballroom affair calls for dramatic ball gowns and elaborate details. Remember, your wedding style should reflect your personality and make you feel like the stunning bride that you are. So go ahead and define your style, embrace the trends, flatter your body type, choose the right colors, and ensure your clothes are venue-appropriate. You'll be walking down the aisle in style in no time!
Set a Budget:
To stick to your budget, it's important to consider the cost of your wedding attire. I mean, come on, you can't just waltz down the aisle in a gown made of solid gold, can you? Well, unless you're Beyoncé, I guess. But for us mere mortals, setting limits is a must.
Finding deals is like finding buried treasure. Except instead of gold doubloons, you're hunting for killer discounts on your dream dress. Don't be afraid to shop around and compare prices. You never know, you might stumble upon a hidden gem of a deal.
Now, listen closely because I'm about to drop some wisdom on you. Prioritize the essentials. Figure out what's really important to you and focus your budget on those things. Is it the dress? The shoes? The accessories? Whatever it is, make it a priority and be willing to compromise on the less important stuff.
Researching options is key. Do your homework, my friend. Look for sales, sample sales, and even consider renting your attire. There are so many options out there, you just have to be willing to dig a little.
Lastly, managing expectations is crucial. Remember, you're not walking the red carpet at the Oscars. You're getting married! Keep your expectations in check and find a balance between what you want and what you can afford. Trust me, you'll look stunning no matter what.
Start Early:
When it comes to starting early, you'll want to give yourself plenty of time to research and explore different options for your attire. Trust me, you don't want to be stuck with a wedding dress that makes you look like a cupcake or a groom's outfit that doesn't fit quite right. So, get a head start on your wedding wardrobe and avoid any fashion disasters.
Early planning is key when it comes to finding the perfect wedding dress. You need time to try on different styles, sizes, and colors. Plus, you'll want to shop around for the best deals and discounts. Remember, you're not just looking for a dress; you're looking for a dress that will make you feel like a million bucks.
But it's not just about the bride. The groom's outfit is just as important. You want your partner to look dapper and stylish on the big day. So, start early and explore different options. From classic tuxedos to trendy suits, there are plenty of choices to suit your groom's style.
Don't forget about the bridal party and guest attire. You'll want everyone to look their best, so start early and coordinate their outfits. Whether it's matching bridesmaid dresses or a dress code for guests, early planning will ensure everyone is on the same fashion page.
For the Bride:
Don't wait until the last minute to start searching for the dress that will make you feel like a million bucks on your big day. Trust me, finding the perfect wedding dress is like finding a needle in a haystack. And let's face it, you don't want to end up looking like a haystack on your special day. So buckle up, bride-to-be, because we're going on a clothes shopping spree!
When it comes to wedding dress shopping, it's all about the details. Think about the style that suits you best. Are you a classic princess or a boho babe? Do you want to show off those killer curves or keep it demure? Whatever your style, there's a wedding gown out there with your name on it.
But let's not forget about the bridal accessories. They're like the icing on the cake, or should I say, the tiara on the bride? From veils to shoes to statement jewelry, these little extras can take your bridal look from ordinary to extraordinary.
And speaking of extraordinary, let's talk about bridal lingerie. Because let's be real, it's what's underneath that really counts. So make sure you're feeling sexy and confident from the inside out.
For the Groom:
Alright, groomzilla, it's time to tackle the age-old debate: suit or tuxedo? Let's face it, you want to look dashing on your big day, but you also don't want to break the bank. So, we'll weigh the pros and cons of each, and help you make the decision that will have all eyes on you (and not just because you're the groom). Oh, and don't forget about your groomsmen! We'll dive into some stylish options for them too, because let's be honest, they've got to look good too, even if they're just there to catch your sweaty palms during the ceremony.
Suit or Tuxedo:
If you're unsure whether to go for a suit or a tuxedo, let me help you unravel this sartorial conundrum. First things first, consider the formality of your wedding. If you're having a black-tie affair, a tuxedo is a no-brainer. But if your wedding is more laid-back, a suit might be the way to go. Next, think about your personal style. Are you a James Bond wannabe or more of a casual cool dude? Your answer will determine whether you should rock a sleek tux or a stylish suit. And don't forget to check out the latest wedding fashion trends. Maybe a velvet suit or a patterned tuxedo jacket will make you the talk of the town. Ultimately, it's your big day, so choose the formal attire that makes you feel like a million bucks.
Groomsmen Attire:
When choosing groomsmen attire, make sure to consider the overall theme and color scheme of the wedding. You don't want your best buddies looking like a bunch of mismatched crayons in your wedding photos. So, let's talk about color options. Navy blue is a classic choice that works with almost any theme. If you're feeling bold, go for a deep burgundy or forest green. Style-wise, opt for a modern slim fit suit or a timeless tuxedo. Accessory ideas? How about some funky patterned socks or personalized cufflinks? Now, the age-old debate: suit or tuxedo? Well, if your wedding is more on the formal side, go for the tux. But if you're keeping things casual, a suit will do just fine. And last but not least, budget considerations. Remember, you can find great deals on rental options that will keep your wallet happy. So, dress your groomsmen to impress without breaking the bank!
For the Bridal Party:
If you thought choosing your own wedding outfit was a challenge, just wait until you have to wrangle a group of bridesmaids and groomsmen into coordinated ensembles. These fashion-forward friends can either be your biggest allies or your worst nightmares, so it's important to approach the task with equal parts diplomacy and style savvy. From picking the perfect color palette to avoiding any "27 Dresses" situations, we've got you covered with our guide to dressing your bridal party to perfection.
Bridesmaids:
To find the perfect bridesmaid dress, you should consider your body type and personal style. Let's dive into the world of bridesmaids, where color coordination becomes a game of "match me if you can." Yes, bridesmaids, get ready to play dress-up. Dress styles are as diverse as the personalities in your squad. From flowy bohemian gowns to sleek and sophisticated numbers, there's something for everyone. And let's not forget the accessories options – statement necklaces, dazzling earrings, and maybe even a tiara if you're feeling extra regal. Now, onto the hair and makeup. Will it be an updo that defies gravity or soft curls cascading down your shoulders? Lastly, bridesmaids' gifts. Show your appreciation with personalized trinkets that say, "Thanks for sticking by my side, even when I turned into a bridezilla."
Groomsmen:
Get ready, groomsmen, because it's time to suit up and show off your dapper style. Forget about those old, outdated groomsmen outfit ideas. It's time to step up your game and embrace the latest groomsmen attire trends. And don't worry, we've got you covered with some clever and humorous suggestions.
First things first, let's talk about accessories. Groomsmen accessories are the perfect way to add a touch of personality to your ensemble. From funky socks to quirky bow ties, the options are endless. Just make sure to follow the groomsmen dress code and coordinate your colors with the rest of the wedding party. After all, you don't want to clash with the bridesmaids' dresses.
Wedding Guests:
Wedding guests, listen up! It's time to find the perfect outfit that will have heads turning and tongues wagging at the event. Now, I know you want to look elegant and stylish, so let's dive into the world of wedding fashion and make you the star of the show.
First things first, let's talk about the dress code. It's essential to adhere to the couple's wishes, but that doesn't mean you can't showcase your personal style. Whether it's a black-tie affair or a casual beach wedding, find a dress that suits the occasion and flatters your figure. And don't forget to accessorize! A statement necklace or a sparkling clutch can take your look from ordinary to extraordinary.
Now, let's move on to hair and makeup. Ladies, this is your chance to let your inner glam queen shine. Go for a hairstyle that complements your dress and adds a touch of sophistication. As for makeup, keep it classy but don't be afraid to add a pop of color to make your eyes or lips stand out.
Lastly, let's talk about footwear. Ladies, we all love our heels, but let's be real, no one wants to be hobbling around on the dance floor. Opt for stylish yet comfortable shoes that will allow you to dance the night away without any regrets.
Don't Forget the Extras:
Now is the time to focus on the finishing touches that will enhance your wedding day look and make you feel like a superstar. Let's talk about those all-important wedding accessories. You've found the perfect dress, but now it's time to add some sparkle with the right jewelry options. Go for statement earrings that will catch the light as you walk down the aisle, or a delicate necklace that adds a touch of elegance. Don't forget about your footwear choices either. You want to dance the night away without any pain, so opt for stylish yet comfortable shoes. Trust me, no one wants to see a bride hobbling around in agony!
Next up, let's talk hair and makeup. Your hair should complement your dress and overall style. Whether you go for an updo, loose waves, or something in between, make sure it's a look that makes you feel confident and beautiful. As for makeup, remember that less is more. You want to enhance your natural beauty, not hide it behind a mask of foundation. Keep it fresh, radiant, and timeless.
Lastly, coordinating colors is key. Your accessories should complement your dress and the overall color scheme of your wedding. Don't be afraid to mix metals or add a pop of color to your ensemble. The goal is to create a cohesive look that ties everything together.
Be Mindful of the Weather:
When it comes to choosing your wedding attire, don't forget to consider the weather and opt for fabrics that will keep you comfortable throughout the day. After all, you don't want to be sweating like a pig or shivering like a popsicle on your special day. So, let's talk about how to dress for different weather conditions without compromising on style.
First things first, check the dress code for your wedding. Is it black tie, formal, or casual? Once you have that sorted, it's time to think about seasonal considerations. If it's the peak of summer, lightweight fabrics like cotton or linen are your best friends. For winter weddings, go for heavier fabrics like wool or velvet to keep you cozy.
Next, consider the venue. If it's an outdoor affair, be prepared for unpredictable weather. Layering is key here. You can wear a stylish blazer or cardigan over your outfit that can easily be removed if it gets too warm. Also, don't forget to accessorize accordingly. A cute umbrella or a stylish hat can save you from unexpected rain or harsh sun.
For indoor venues, you have more flexibility with your outfit. However, it's still a good idea to bring a light shawl or wrap in case the air conditioning is on full blast.
Consider Cultural or Religious Requirements:
If you are attending a wedding with cultural or religious requirements, it's important to familiarize yourself with the customs and traditions beforehand. You don't want to show up in your favorite Hawaiian shirt only to find out it's a black tie affair. Trust me, you'll stick out like a sore thumb.
Cultural considerations and religious requirements play a significant role in shaping wedding attire traditions. From vibrant and ornate Indian saris to elegant and modest Muslim hijabs, diversity in wedding clothing is something to be celebrated. So, before you start rummaging through your closet, take a moment to research the specific customs and expectations of the wedding you'll be attending.
Fashion trends in weddings may come and go, but respect for cultural and religious traditions is always in style. Embrace the opportunity to learn about different cultures and honor their customs by dressing appropriately. Plus, who knows, you might just discover a new fashion trend that suits you!
Conclusion
Congratulations! You've reached the end of this ultimate wedding wardrobe guide, and now you're armed with all the tips and tricks to find the perfect wedding clothes. Remember, just like finding true love, finding the perfect outfit takes time, effort, and a little bit of magic. So, go forth and conquer those wedding shopping aisles with confidence, and may your wedding day be a beautiful fairy tale come true. Happy shopping!