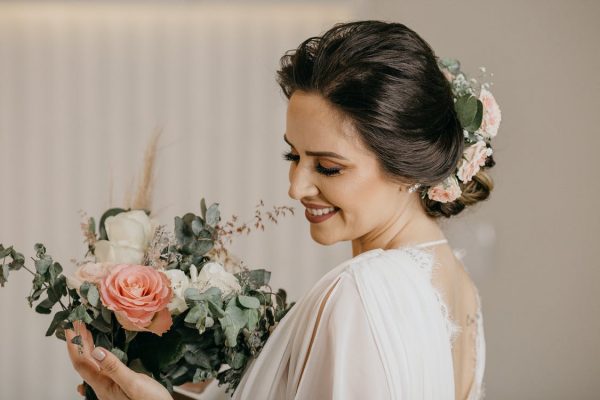 The countdown to your wedding is on, so now's the time to prep and ensure you look flawless at your wedding. We're not only talking about choosing a hairstyle, wedding dress or makeup on the big day. But we also want to help you prep your skin, body and teeth for the big day as early as now.
Ladies, here's a quick guide on how to look flawless at your wedding:
1. Figure out a fitness plan—and stick to it.
It's no secret that all eyes are on the bride during a wedding. So, it's crucial that you prep your body for the big day. Figure out your fitness plan as early as possible. That way, you don't resort to crash dieting a month or two weeks before the wedding. As you decide on your fitness plan, keep in mind that eating right and exercising regularly are key to success. Don't simply follow the latest diet or workout trends. Instead, look for a workout regimen or diet plan that best suits your lifestyle and situation. Also, focus on achieving smaller milestones than drastic changes, as it's a more sustainable way to stick to a fitness plan.
2. Develop a reliable skincare routine.
Find a skincare regime that is affordable and achievable and works for your skin. You can approach this by using the trial-and-error method, but it also pays to seek advice from your dermatologist or a trusted skincare professional. And when you've found a skincare regime that works for you, don't fiddle with it! Making changes close to the big day can lead to breakouts and other issues. If you want to test moisturisers or makeups, make sure to do it months before the wedding. That way, you can give your skin time to adjust to new skincare products.
3. Drink more water.
You may already know it, but it still helps to be reminded: drink more water! Drinking eight glasses of water a day isn't only important for your overall health, but it also helps improve the look and feel of your skin. You don't want to have dry skin on your wedding day. If it's a struggle for you (maybe, because you're too busy at work or planning a wedding), try using a water bottle with motivational markings. Or use apps like Aqualert or Hydro Coach.
4. Improve your hair care.
If you still have a few months before the wedding and think your hair could use a little help, try popping a daily vitamin with biotin. Biotin supports healthy and strong hair growth. But remember that it isn't a quick fix. You have to spend at least three months taking the vitamin consistently to notice any difference.
Also, try switching to a gentle hair brush, use hair masks regularly, and try scalp-nourishing oils. These additional hair care products can help make you look flawless at your wedding.
5. Get a cosmetic dental consultation.
Book a cosmetic dental consultation months before the wedding. Just as you prep your guest list or wedding decors, you also need to plan for necessary dental procedures. It's recommended to get in-office teeth whitening to have a bright smile on your wedding day. But there could also be several underlying factors that you have to address. By booking a dental consultation months before the wedding, you'll have enough time to fix missing teeth, gum disease, or any other dental issue that may affect your confidence during the wedding. 
6. Spend some time relaxing.
Wedding planning can be exhausting, so it's good to take a break every once in a while. Be deliberate about your downtime—otherwise, it may never happen amid all the planning! Set a day in a week or month to relax and not think about anything related to wedding preps. Enjoy reading or lounging at home. Or you can do yoga or hang out with your friends. Do anything that will help you destress. Keep in mind that stress can have negative impacts on your skin, causing breakouts and dryness. It can also affect your overall physical health.
7. Get plenty of sleep.
There's some science behind beauty rest. It will give your skin a boost and allow the rest of your body and brain to recover. It may be difficult to sleep when you're in the middle of wedding preps. Still, make sure to be mindful of your sleep quality. You can improve it by creating a relaxing sleeping area (you can add new linens or switch to comfier bedsheets), developing a bedtime ritual, or exercising or getting more active throughout the day.
With ample preparations, you can look flawless at your wedding.
Start following these tips as early as possible—like months ahead. That way, you will look flawless at your wedding and be more than ready to begin another beautiful chapter in your life.